Adjusting Journal Entries Has Never Been Easier
To ensure an accurate picture of your company's financial position, the information in your general ledger must be precise. Reverser from Corporate Renaissance Group quickly and easily alters incorrectly posted transactions, ensuring the accuracy of your financial statements.
Reverser is a dynamic and intelligent business solution that efficiently reverses, rectifies, or re-posts journal entries when the need arises. Reverser can save hundreds of data-entry hours, as transactions can effortlessly be corrected without having to manually re-enter any information.
Versatile Functionality
With Reverser, Microsoft Business Solutions – Great Plains users can easily and cost-effectively reverse, rectify, or re-post journal entries. With one click of the mouse, it is possible to create a new batch which amends every transaction in the general ledger. A single, easily-understood interface screen enables users to specify the reversing batch details, filter the available posted entries, and select whether to reverse, rectify, or re-post. Reverser does not modify the original Great Plains data, therefore a firmly established audit trail is generated.
[fusion_modal name="screenshot" title="" size="large" background="#ffffff" border_color="transparent" show_footer="no" class="" id=""]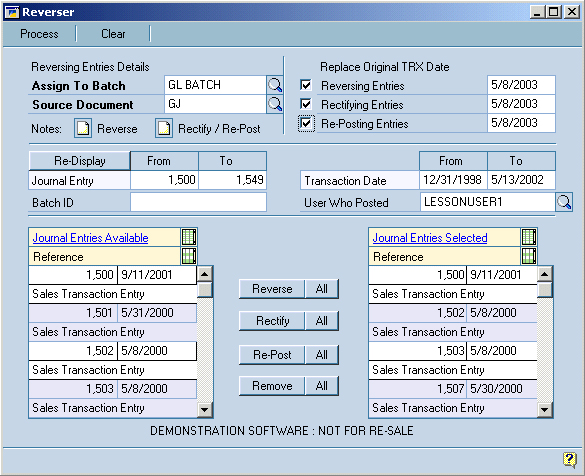 [/fusion_modal]